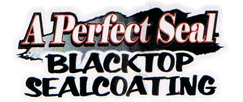 A Perfect Seal Driveway Sealcoating and Blacktop Repair is an owner operated company with offices near Binghamton, NY.  We are big enough to handle any size Pavement Maintenance job, but small enough to pay attention to all the details.  We treat your property like it was ours, and specialize in quality Residential and Commercial Sealcoating work at a fair price.
We have the best Asphalt Repair Services and equipment available, which allows us to do high quality Pavement Repair work in a reasonably priced and timely manner.  Customer service is very important to us.  We spend very little on advertising, so we make sure to take care of our customers; and they in turn advertise for us through word of mouth referrals.
We are easy to get in touch with, and return all phone calls the same business day.  If you are searching for quality driveway or parking lot seal coating, Rubberized Crack Filling, Parking Lot Striping, pothole repair or asphalt maintenance in the Binghamton, Endicott, Vestal, Chenango Bridge or Warren Center areas of New York and Pennsylvania, we would enjoy assisting you with your Sealcoating project.